Insights > Enthusiasm for Energy Has Students Ready to Power the World
Enthusiasm for Energy Has Students Ready to Power the World
05/24/2017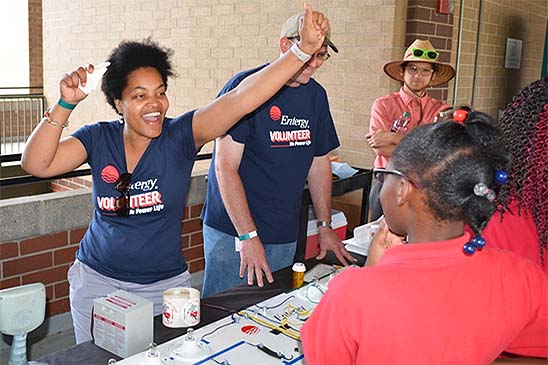 De'Angela Stipe's enthusiasm was electric.
Group after group of students attending a STEM Day event in Metairie listened intently as she used an interactive model to explain why different materials conduct electricity or act as insulators.
Wide-eyed with excitement, students jumped at the chance to answer her questions and test their new-found knowledge on the interactive model.
"OK future engineers, are you ready to power the world?" she asked each group. "Yes!" they shouted back.   
Stipe and other volunteers staffed Entergy's booth at the third annual Hands-On STEM Educational Day. Thousands of students attended the event held at the baseball stadium now known as The Shrine on Airline. Core Element hosted the event.
"STEM is very important in today's world. I wish I had something like this early in my life," said Stipe, a regional engineering supervisor based in Hammond.
"These kids are sharp. They definitely have some knowledge. And they're only in the fourth grade, the fourth grade," she said while shaking her head.
"The rewarding part is when the kids ask questions, and you see the look on their faces when they learn something new. You'd be amazed at how many understand electricity and how many are intrigued and want to know more about it.  These kids could be our future engineers at Entergy. It really is encouraging." - Ronnie Willis, Entergy line superintendent, Riverlake division
It was encouraging as well to Kevin Haas, who organized Entergy's participation in the event. Haas' wife is a grammar school teacher in Jefferson Parish, so he found satisfaction in seeing the reaction of teachers as their students engaged in the experiments involving the interactive model.
"A correct answer by students brought a smile of pride to the face of their teachers. If the answer was wrong, the teachers remained positive, giving the students an encouraging smile," Haas said. "These teachers are committed to their students' success. The future is bright."
Joining Haas, Stipe and Willis in charging up the students' interest in electricity were Chrystelle Williams, Lisa Lendermon and Derek Maxie.
Learn more about Entergy's commitment to education.
---