Insights > For the Love of Science
For the Love of Science
02/15/2018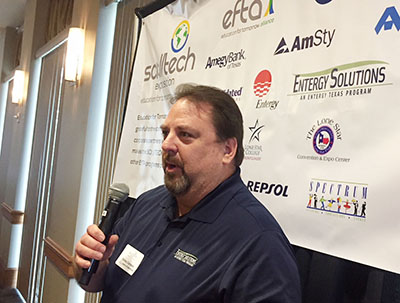 Some people cringe when they hear the following two words: Science Fair. It conjures up memories of spending hours researching, writing and creating the "perfect project board," either for themselves or their children.
However, Resource Planning and Market Operations Lead Account Service Manager Kelley Carson loves it.
For the past five years, Carson and other volunteers have taken several hours of a Saturday to judge dozens of projects for the annual SCI://TECH Exposition, hosted by the Education for Tomorrow Alliance and the Conroe Independent School District. The event is the largest science fair in Texas, and the expo's Public School Junior High Science Fair is sponsored jointly by Entergy Texas and Entergy Solutions.
This year's fair was the 28th annual event and was held Feb. 2. Its theme was Wild About Science.
"I love to talk about SCI://TECH. It is a truly awesome event," Carson said. "It is an opportunity for students from elementary school to high school to demonstrate a science project and also explain the processes they went through to achieve a result, and whether that was the result sought after."
Some of the contestants' projects are good enough to advance to the national science fair, and some of the projects are so good that companies have helped to provide patent information for the students, as well as scholarships.
"One senior from The Woodlands had a computer science project that was so impressive, a major company offered the student a management position in their IT department upon graduation," he said. "I have seen the gamut of projects from totally awesome to your mom and dad did a good job. But all of them had the fortitude to stand by their presentation, look you in the eyes, and talk to you, sort of, and tried to communicate with you about what their intent was when they put their project together. It is good to have young people actually talk instead of communicating by texting or tweeting."
Some of Carson's favorite projects were centered around the Deepwater Horizon oil spill in the Gulf of Mexico.
"Some of the ideas were very creative like using giant swimming pool skimmers or developing an algae that would actually absorb the oil, or growing micro-organisms that would literally eat the oil," he explained. "The latter was one of the projects that was sent on the state science fair."
Carson said he would like to see more Entergy volunteers in the future.
---