Insights > Honoring Vets in Their Final Resting Place
Honoring Vets in Their Final Resting Place
05/25/2017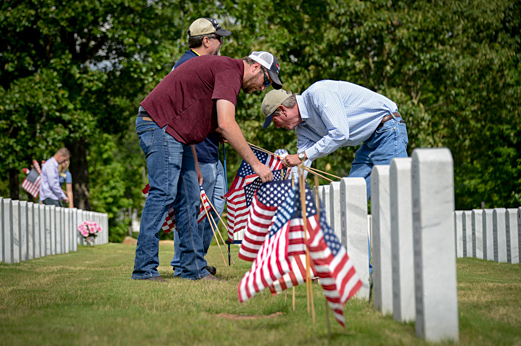 Combat veteran Adam Zomant tried to tune out the sound of automatic rifle fire Wednesday morning as it echoed off the hills from nearby Camp Robinson. Now a vegetation operations coordinator based in Searcy, Zomant was one of six Entergy Arkansas vegetation management volunteers placing flags on veterans' graves in the Arkansas State Veterans Cemetery in North Little Rock Wednesday morning.
The group of volunteers was organized by Robert Rowlette, vegetation operations coordinator based in Russellville. They were among other volunteers placing flags at each of the 7,000-plus graves to honor the veterans on Memorial Day. They'll be back next week to pick up the flags so they can be stored for future use.
Rowlette said the vegetation group helped with a program called Saluting Branches last year in the national Veterans Cemetery in Little Rock. Through Saluting Branches, Entergy donates tree trimming services at a selected military cemetery. They had already agreed to do the same at the Arkansas State Veterans Cemetery later this year. When Rowlette made a site visit, the proprietor mentioned that they could use some volunteers to place flags for Memorial Day.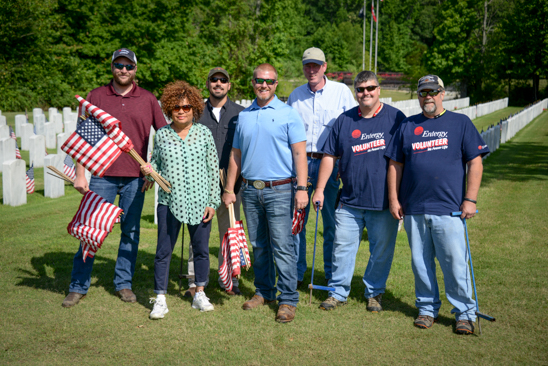 All the volunteers, as pictured in the group photo from left, were Paul Boyd, Diane Jones, Kent Reno (a contract forester with ACRT), Robert Rowlette, John Everitt, Adam Zomant, Britt Jones.
---