Insights > Lunch Bag Project for Kids' Meals Helps Brighten Lives, Alleviate Hunger
Lunch Bag Project for Kids' Meals Helps Brighten Lives, Alleviate Hunger
07/30/2020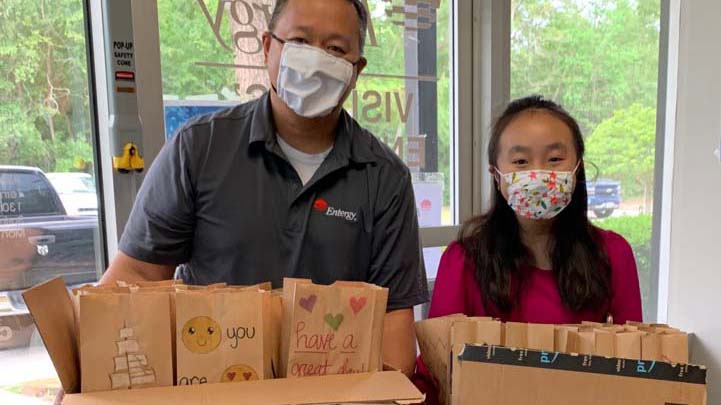 Entergy employees and their families unleashed their inner artists while helping fight childhood hunger during a virtual volunteer project benefiting Kids' Meals.
Volunteers assembled and decorated more than 400 lunch bags for Kids' Meals, a nonprofit based in Houston that delivers free, healthy meals year-round to preschool-aged children. Last year, Kids' Meals expanded its service area to Montgomery County, where approximately 32,000 children struggle with hunger every day.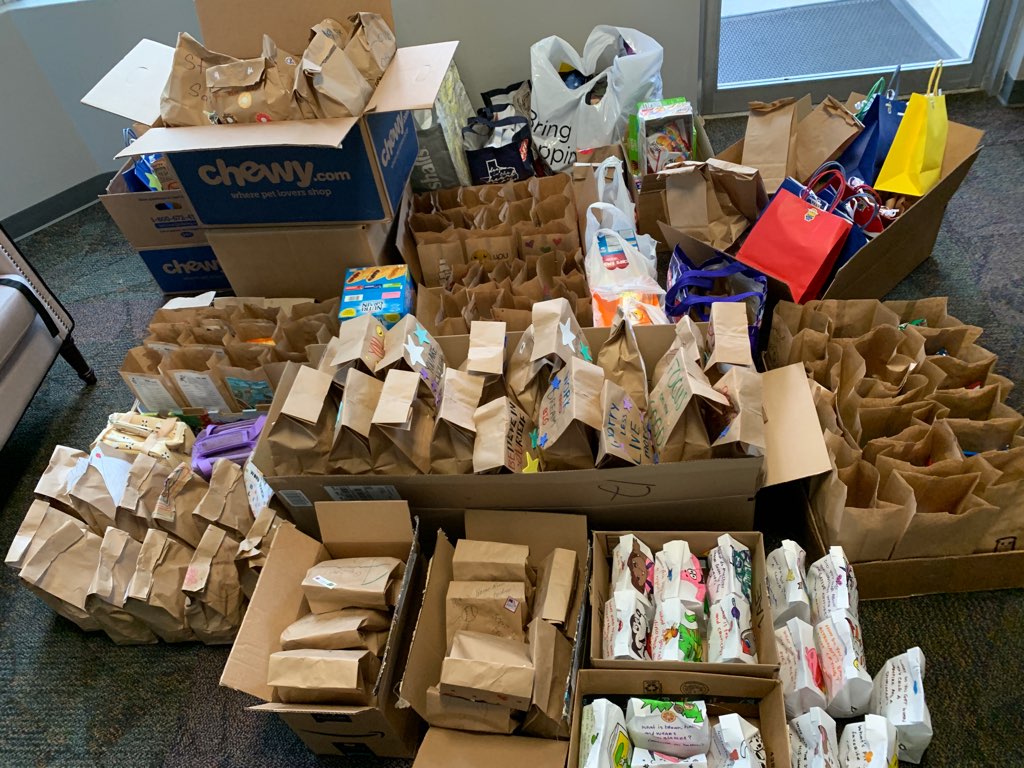 Employees and their families assembled more than 400 festive lunch bags for Kids' Meals.
"Our lunch bags will be delivered directly to the doorsteps of children in need in the Willis, Porter and Montgomery area," said Corrin Barrow, customer service specialist, Entergy Texas. "Employees really enjoyed working with their kids on a fun project that also benefits the community. We look forward to future volunteer opportunities for Kids' Meals and hope to make do-it-yourself lunch bags a monthly activity."
Entergy volunteers filled standard lunch bags with non-perishable, prepackaged food and drinks. But it's what they did to the outside of their bags that made the project an exercise in creativity. Using markers, crayons and stickers, they covered bags with hand-drawn pictures, uplifting messages, jokes, riddles, games and other decorations designed to make each recipient smile. 
Many lunch bags like this one were decorated with hand-drawn figures and riddles designed to make their recipients smile.
"We enjoyed an opportunity to be creative while helping others," said Phong Nguyen, manager, planning and decision support analysis. "It was a fun experience working on it with my daughters."
Financial Analyst Rachel Delong and her three sons filled and decorated 20 lunch bags for Kids' Meals.
"I wrote the riddles, and the boys helped decorate the bags," Delong said. "This virtual volunteer opportunity was a unique and fun activity that also helped people in need in our community."
Kids' Meals is the nation's only home-delivery meal program that focuses on preschool-aged children. Since late March, Kids' Meals has delivered over 22,000 healthy lunches and distributed more than 53,000 pounds of fresh produce, milk, meat, canned goods and dry goods to qualifying families and others in need in Montgomery County.
"Having Entergy as a partner in supporting Kids' Meals with handmade lunch packs and donations is critical in our mission to serve families in need," said Laran Cone, director of Montgomery County Kids' Meals.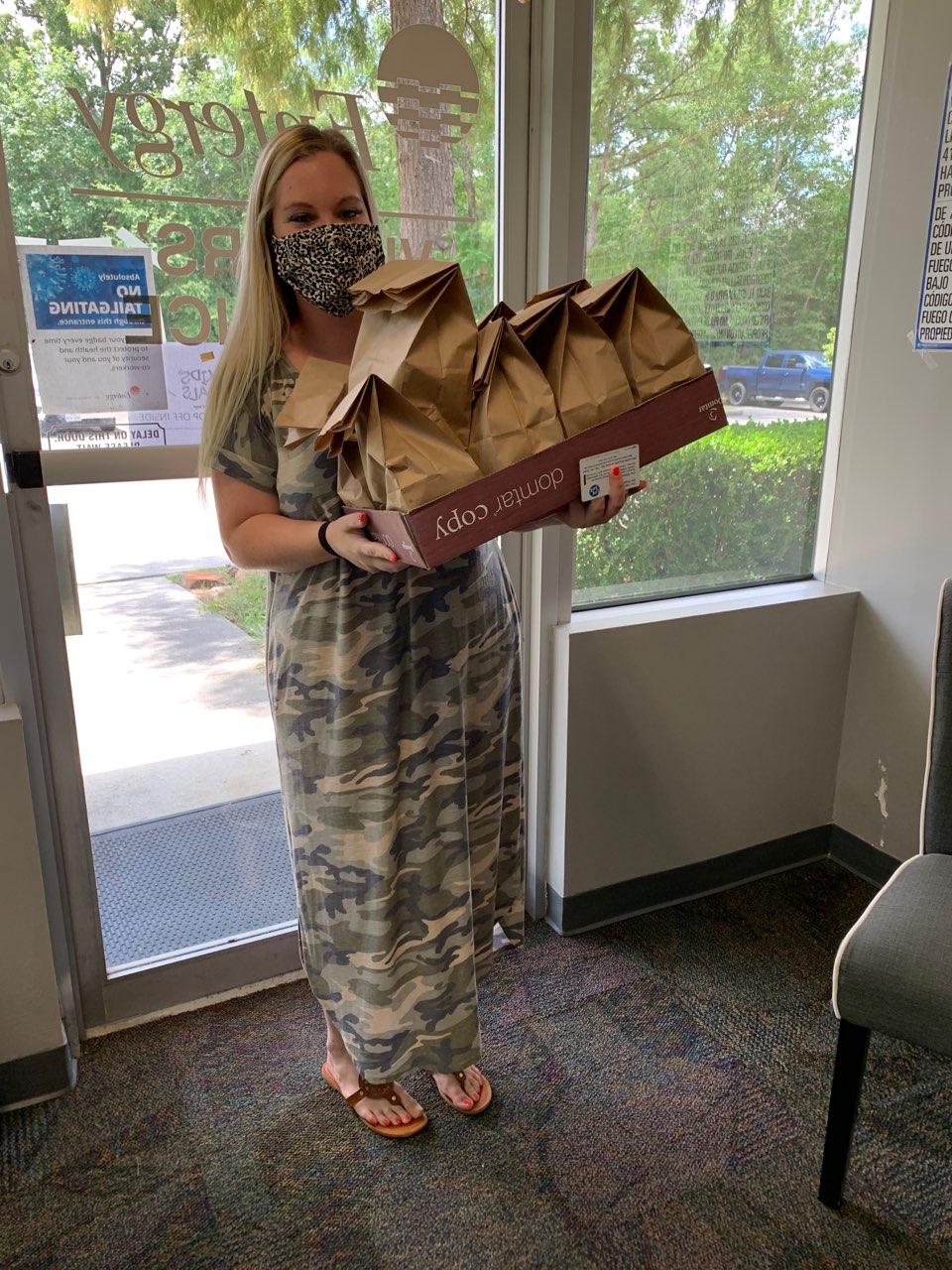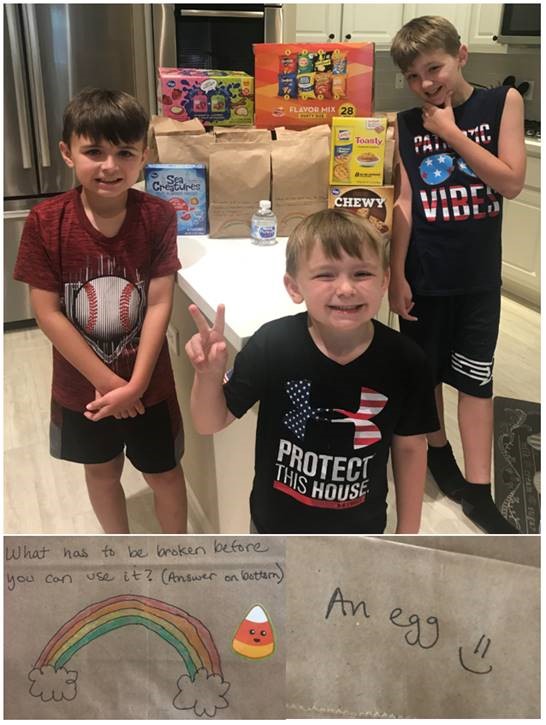 (Left) Jasmin Haroldson brings a box full of handmade       (Right) Rachel Delong's sons helped decorate and fill 20 lunch bags.                                           lunch bags to help feed children in need.
---