Insights > Smokin' Hot Cook-Off Teams Get Cooking to Give Back
Smokin' Hot Cook-Off Teams Get Cooking to Give Back
05/15/2017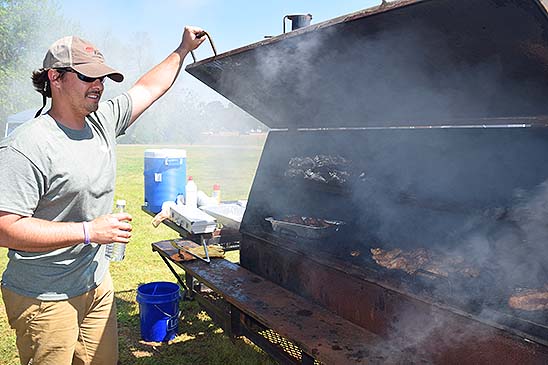 When four teams come together to barbecue, it's all for good fun, a great cause and, of course, a trophy. Entergy's own kings and queens of barbecue recently dished up their finest wings, baby back ribs and stuffed pork chops for the company's Smokin' Hot Cook-Off at the Mississippi Agriculture and Forestry Museum grounds.
The contest was part of the inaugural JackTown Throw Down event, a Kansas City Barbecue Society-sanctioned competition that benefited local charities. The cooking was serious, but the day was about giving back, fellowship and fun. 

Teams included the Madison Grillers, the Rankin Smokers, the Baxter Wilson Team and the CannonBall Express. And these folks were serious about their barbecue. From preparation to final presentations, each team put a lot of love (and sometimes secret ingredients!) into the three meats they smoked for the volunteer judges.
Judges graded each selection on flavor and presentation in a blind taste test. While competition was intense, the teams didn't lose sight of other important factors in barbecue success – they had fun and raised money for charity.
The Baxter Wilson team cooks together regularly, including at an annual first responders 9/11 event in Vicksburg. "We love cooking, and it was great to have fellowship with our immediate co-workers and those at other Entergy locations," said John Addison, production supervisor, Attala, who formerly worked at Baxter Wilson.
Charles Hall, vice president power plant operations, is a veteran barbecue competitor and brought his custom Razorback grill to cook for volunteers. "Events like this help build relationships among employees," he said. "Employees were coming together, sharing ideas and getting to know each other. It's wonderful to see that camaraderie."
The contest was tight, but CannonBall Express swept the competition in all categories, landing them bragging rights as Entergy's top grill masters. And yes, they did get a beautiful wooden plaque, crafted by one of the event's lead volunteers Robert Burrell, senior lead engineer, nuclear.
Not only that, all funds raised went to charitable organizations, including Entergy's own
The Power to Care
, which provides emergency bill payment assistance to seniors and disabled individuals in crisis.
Learn more about our commitment to the communities we serve.
---