Insights > Waterford 3 Team Member Helps with Hurricane Laura Restoration
Waterford 3 Team Member Helps with Hurricane Laura Restoration
12/03/2020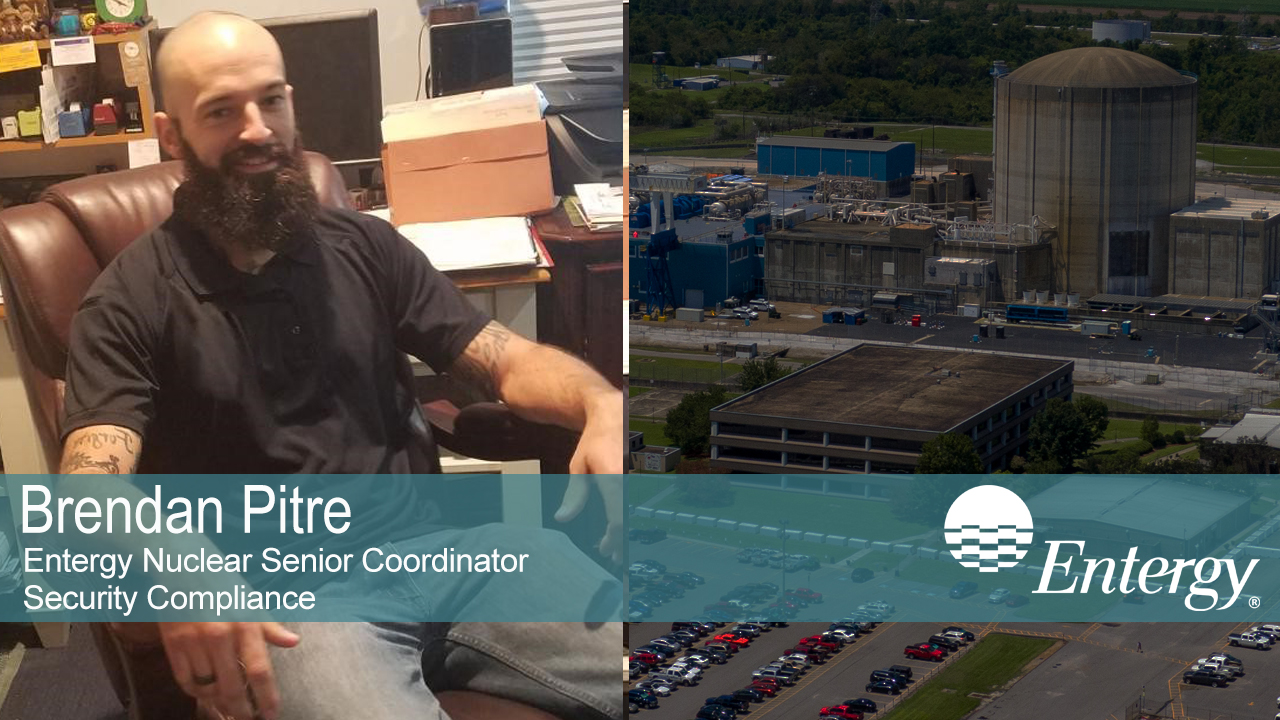 Brendan Pitre, Entergy Nuclear fleet senior coordinator of security compliance, assigned to Waterford 3 Steam Electric Station, volunteered to help in the massive Hurricane Laura restoration effort. For this, he was recognized by Entergy Nuclear for exhibiting a safe work environment and a passion for teamwork and received one of Entergy Nuclear's Employee Spotlight recognitions.
The Entergy Nuclear Employee Spotlight recognizes team members exhibiting a safe working culture, passion for teamwork, an always learning attitude, upholding integrity, and being respectful. 
Pitre, who joined Entergy in 2009, has been based at the West-Cal Arena and Events Center near Lake Charles, Louisiana for several weeks. It was one of the staging sites for the trucks, housing, equipment and food service needed as Entergy and contractor teams rebuilt the southwest Louisiana transmission system destroyed by the storm. 
Typically, Pitre would be involved in planning security exercises at Waterford 3, but the worldwide COVID-19 pandemic halted that activity, so he stepped forward for hurricane relief. "I'm also from that area, Houma, Louisiana, so I take it personally," he noted.
At the arena, Pitre shadowed the site managers and quickly got up to speed. He helped make the site layout more efficient, re-routed traffic patterns, coordinated lodging and assisted with sign placement. 
"As we built a rapport with team members, they would tell us the problems they were experiencing," he said, adding that he helped organize the delivery of water and ice to groups from out of state that were not used to the Louisiana heat – a critical safety issue.
The assignments kept coming. "Brendan is a tremendous asset. When we needed tents, Brendan found a solution on his own by going to various stores in the area and coordinated with a site teammate." said J.R. Haley, usually the director of Entergy's MaxGen IT project, yet, served as a temporary site staging manager.
COVID-19 precautions were also part of the job. "We had two COVID checkpoints at the entrance of each building. Each checkpoint had masks, temperature scanners and hand sanitizer. We probably went through 10,000 masks," Pitre said.
For more information about Entergy's restoration efforts following Hurricane Laura, visit entergy.com/hurricanelaura.
---