News Release > Energy Academy students visit Grand Gulf Nuclear Station
For Immediate Release
Energy Academy students visit Grand Gulf Nuclear Station
02/20/2023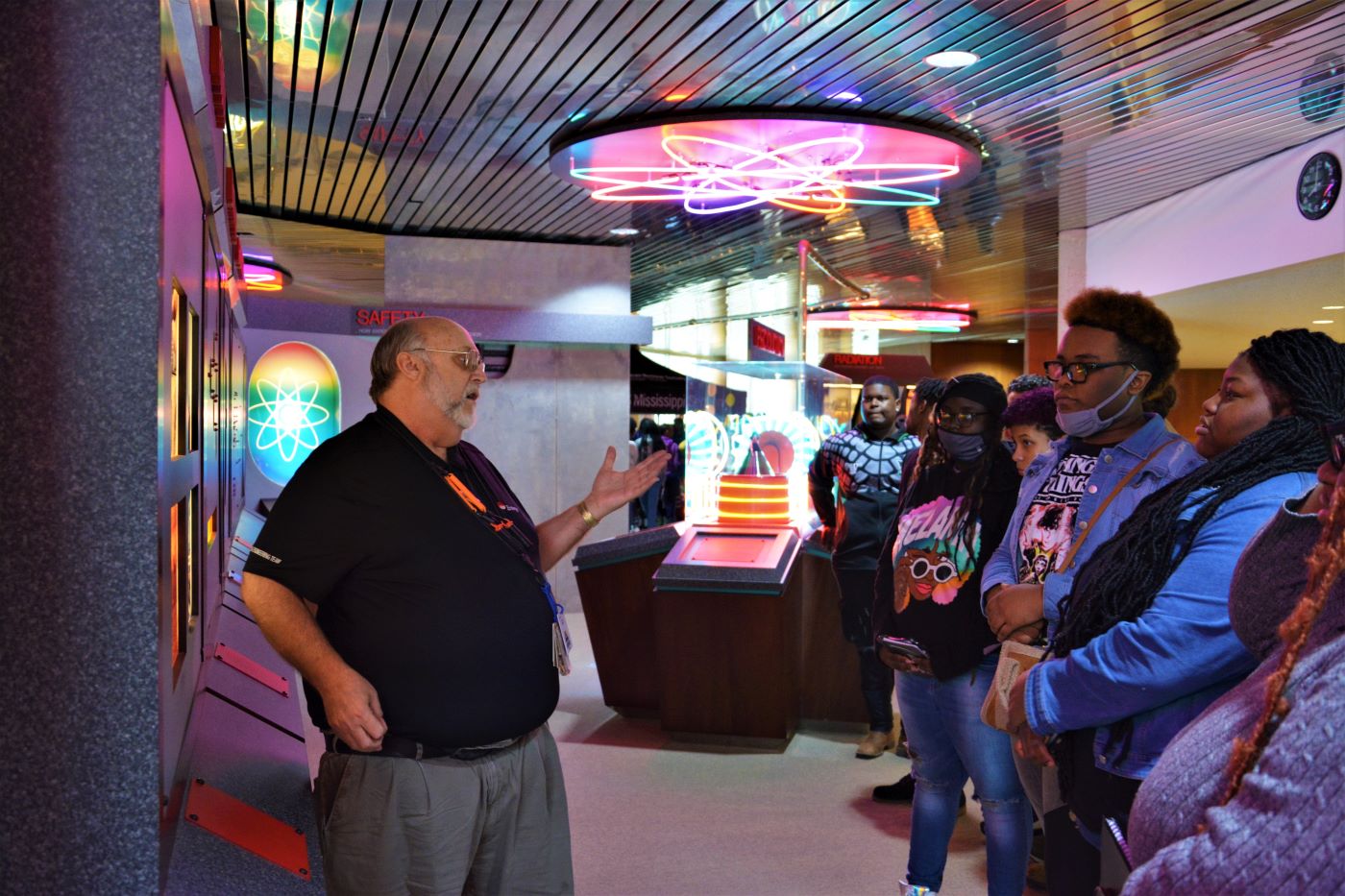 Students tour station to learn about nuclear power, energy careers
PORT GIBSON, Miss. – Some 100 high school students from Claiborne and Vicksburg Warren County school districts recently visited Grand Gulf Nuclear Station to learn about the benefits of nuclear power and careers in the energy industry.
The students are part of the Energy Academy, a program established in 2019 through a partnership between Entergy Mississippi, the State of Mississippi and the Vicksburg Warren and Claiborne County school districts. The academy offers a curriculum of interactive lectures, presentations, class assignments, field trips and research projects focusing on sustainable energy.
"We are so thankful to the Entergy family for allowing our students an opportunity to spend time at Grand Gulf Nuclear Station," said Prentiss McLin, Academy Business Liaison and Coordinator for the Vicksburg Warren school district.
"The tour proved successful and made a difference in the career trajectories of the students that had an opportunity to participate," he added. "We are extremely grateful to Entergy's outstanding team of professionals, along with the American Nuclear Society, for creating an atmosphere for students that was both fun and informative."
During the visit to Grand Gulf, students attended presentations and participated in activities that taught them about the types of jobs they could find in the energy industry.
"The world is moving toward even more electrification, and we need skilled professionals to work in the energy industry to make this larger electric future possible," said Kimberly Cook-Nelson, Entergy Nuclear chief nuclear officer.
"Nuclear power plays a key role in an environmentally sustainable, energized future, and we hope many of these students will choose careers in the nuclear industry, but the entire energy industry, including solar and wind, will need quality employees to meet the energy demands of our region," said Cook-Nelson. "We want local talent to operate this station, and that starts with developing students now. This Energy Academy is preparing students to be ready for those positions whether they enter the workforce right out of high school or after they pursue further education."
Entergy Nuclear is headquartered in Jackson, Mississippi and owns and operates five nuclear reactors in Arkansas, Louisiana and Mississippi. Entergy is committed to achieving net-zero emissions by 2050, and clean, carbon-free nuclear power is key to achieving this climate goal.
About Entergy
Entergy, a Fortune 500 company headquartered in New Orleans, powers life for 3 million customers through its operating companies across Arkansas, Louisiana, Mississippi and Texas. Entergy is creating a cleaner, more resilient energy future for everyone with our diverse power generation portfolio, including increasingly carbon-free energy sources. With roots in the Gulf South region for more than a century, Entergy is a recognized leader in corporate citizenship, delivering more than $100 million in economic benefits to local communities through philanthropy and advocacy efforts annually over the last several years. Our approximately 12,000 employees are dedicated to powering life today and for future generations. Learn more at entergy-nuclear.com and follow @EntergyNuclear on Twitter. #WePowerLife
-30-
---