News Center > Entergy Powers Communities with More Than $2M in Shareholder-Funded Grants
For Immediate Release
Entergy Powers Communities with More Than $2M in Shareholder-Funded Grants
09/04/2019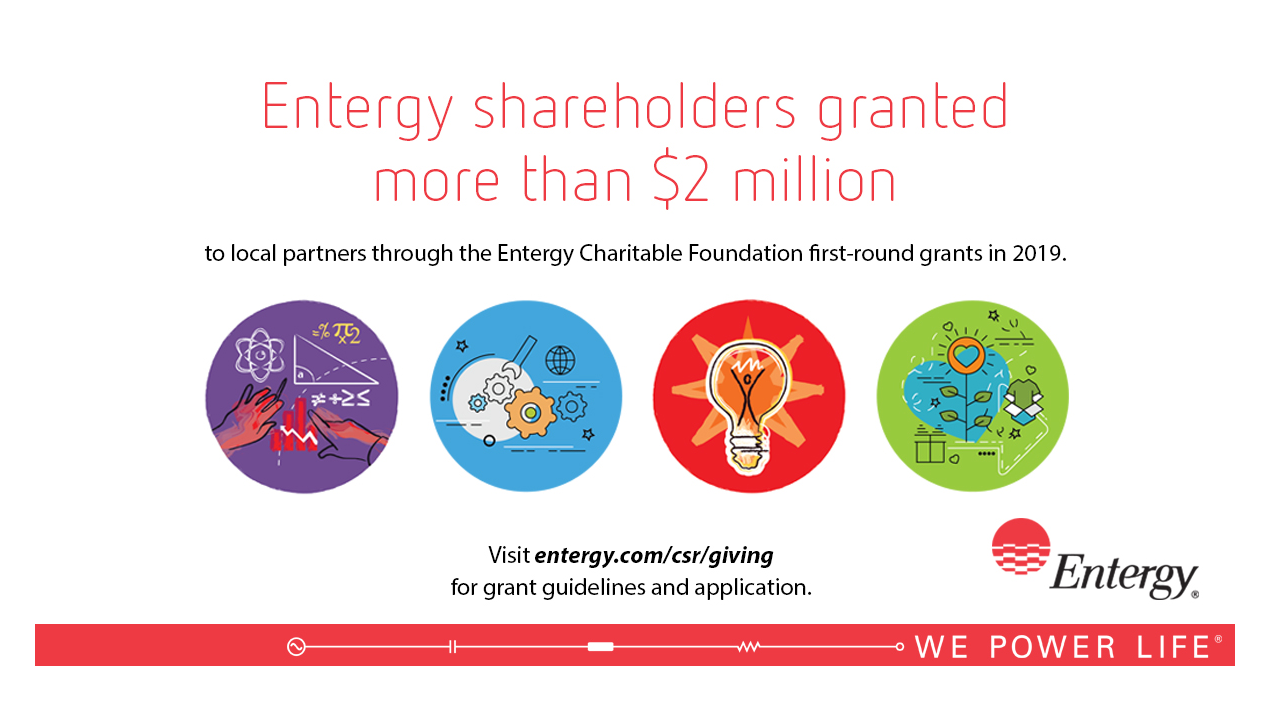 73 nonprofit organizations across seven states received shareholder-funded grants to support education, workforce development, poverty solutions and environmental programs
NEW ORLEANS – Entergy shareholders continue to provide funding and support for initiatives that help build stronger, healthier and more vibrant communities through the Entergy Charitable Foundation. This year's first round grant cycle awarded more than $2 million to 73 nonprofit organizations working across Arkansas, Louisiana, Mississippi, Texas and Entergy wholesale merchant operations.
Today, Entergy is becoming the premier utility of the Gulf South and is strategically investing and supporting programs that have a positive economic and social impact on its communities.
"As we transform into the premier utility, we are committed to supporting and benefiting all our stakeholders," said Leo Denault, Entergy Corporation chairman and CEO. "Not only are we advancing the growth of our communities, we are supporting our customers, employees and owners who are essential in keeping these communities healthy, educated, environmentally conscious and thriving. Entergy is pleased to partner with a large network of nonprofit partners who are making a positive impact every day to better our communities."
The foundation's focus areas of funding are education, workforce development, poverty solutions and environmental programs.
First-round grant recipients include:
American Red Cross received a $250,000 grant as part of a two-year, $500,000 disaster responder partnership that benefits Entergy customers in Arkansas, Louisiana, Mississippi and Texas.
City of Lake Charles' Consolidated Lake Project received $250,000 to help generate a workforce dedicated to science, technology, engineering and math by combining the Children's Museum of Southwest Louisiana and the offerings of a science and nature center. This attraction will serve as an anchor for science and innovation for children and adults in the community.
Jobs for America's Graduates Inc. received $250,000 to help at-risk young people graduate from high school and make successful transitions to post-secondary education and meaningful employment. The project supports programs in Mississippi, Louisiana and Arkansas.
A complete list of 2019 first-round grant awards can be found here.
In 2018, Entergy Corporation and the Entergy Charitable Foundation awarded grants totaling more than $18.4 million to more than 2,000 nonprofits, and employees logged more than 112,000 volunteer hours. Learn more about the company's community investments at entergy.com/csr/giving.
Entergy Charitable Foundation grants are awarded twice a year. The first grant cycle opened Jan. 1 and closed Feb. 1. The second grant cycle opened July 1 and closed Aug. 1.
For more than 100 years, Entergy has powered life in our communities through strategic philanthropy, volunteerism and advocacy. Entergy's corporate social responsibility initiatives help create and sustain thriving communities, position the company for sustainable growth and are aligned with the United Nations Sustainable Development Goals. Our top CSR priorities are education/workforce development, poverty solutions/social services and environmental programs. Each year, Entergy contributes $16-18 million in grants from shareholder dollars to more than 2,000 nonprofit organizations in the communities where we operate. In addition, our employees volunteer approximately 112,000 hours in those communities. Learn more about our corporate social responsibility initiatives by visiting entergy.com/community.
About Entergy Corporation
Entergy Corporation is an integrated energy company engaged primarily in electric power production and retail distribution operations. Entergy owns and operates power plants with approximately 30,000 megawatts of electric generating capacity, including 9,000 megawatts of nuclear power. Entergy delivers electricity to 2.9 million utility customers in Arkansas, Louisiana, Mississippi and Texas. Entergy has annual revenues of $11 billion and nearly 13,700 employees.
-30-
entergy.com
Twitter: @Entergy
Facebook: facebook.com/Entergy
---