News Center > Entergy Texas Aids Harvey Recovery in Classrooms, Communities
For Immediate Release
Entergy Texas Aids Harvey Recovery in Classrooms, Communities
08/23/2018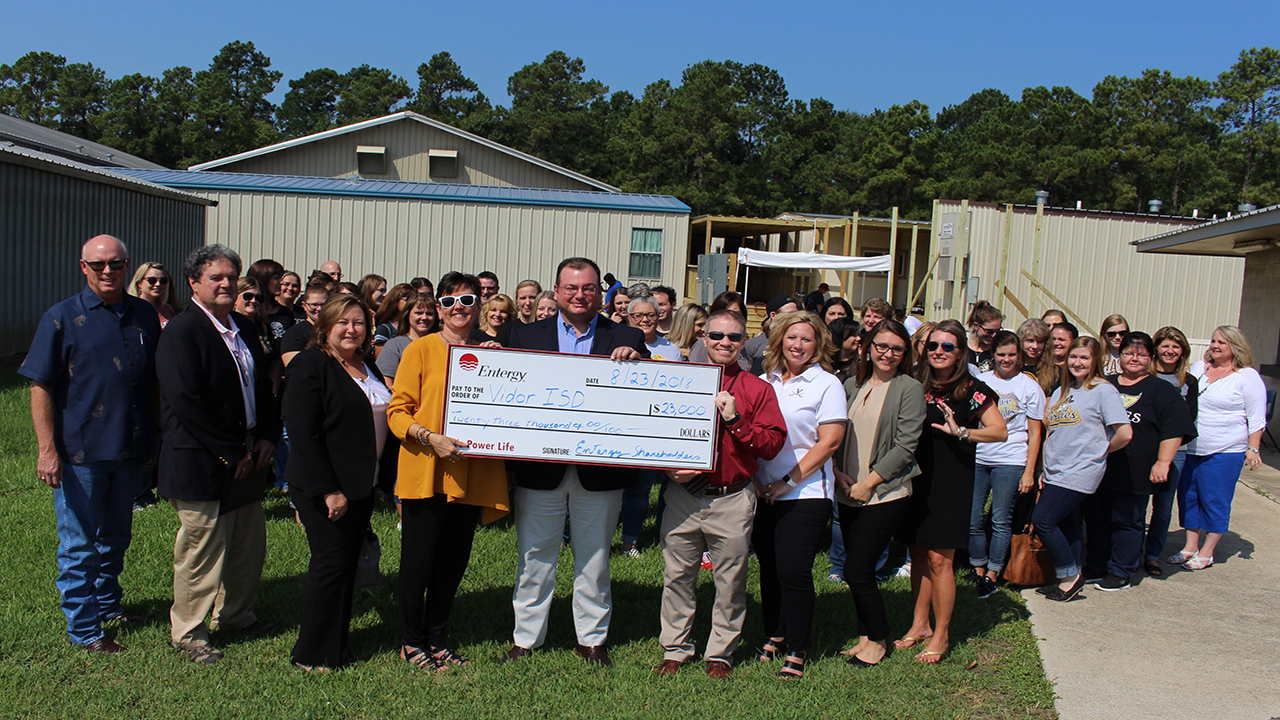 In the aftermath of Harvey's devastation, Southeast Texas showed the resilience to overcome. Neighbors, families and businesses stood together and rebuilt, stronger than ever. A year later, that rebuilding continues. 
This is why on the first anniversary of Hurricane Harvey hitting the Lone Star State, Entergy Texas is giving $300,000 to local educators, local governments and nonprofit organizations to replace items that Harvey destroyed.
"Harvey showed the heroes of our communities," said Sallie Rainer, president and CEO of Entergy Texas, Inc. "The schools, cities and community organizations were there to help people get back on their feet following the storm. Our contributions today are a sign of our ongoing partnership to make our communities stronger."
A portion of these contributions will go towards heavily-impacted school districts across Southeast Texas – schools that are still suffering from the hardship of Harvey. Teachers at six independent school districts are getting a total of $89,500 to help makeover their classrooms or buy material and equipment to enhance learning. The donations include:
$18,000 to Hardin-Jefferson ISD
$5,000 to Hull-Daisetta ISD
$6,000 to Hamshire-Fannett ISD
$22,500 to Little Cypress- Mauriceville ISD
$23,000 to Vidor ISD
$15,000 to Orangefield ISD
"We at Vidor ISD are so grateful for the funds to aid our teachers who lost so much, as their classrooms were inundated with floodwaters last August. Veteran teachers suddenly found themselves without teaching materials accumulated over years of faithful service in the classroom. What a devastating loss!" said Sally Andrews, Coordinator of Community Relations at Vidor ISD. "Entergy's donations to replace what was lost is a great gift. Our teachers are so excited!" 
In addition to schools, Entergy Texas is donating thousands of dollars to local governments and nonprofit agencies, who will use the money for shelters, generators for pump stations, cleaning supplies and Harvey rebuilding. Cities receiving assistance include Kountze, Sour Lake, Ames, Beaumont, Bevil Oaks, China, Nome and Rose City.
"My first experience with Entergy, as an elected official, was with Hurricane Rita," said Rebecca Ford, Mayor of the City of Bevil Oaks. "Time and time again, disaster after disaster, Entergy has been there for us. This is not just a company that provides electricity for 450,000 customers, with us included. This company hires people who care about their customers and know what it means to 'love your neighbor as yourself.' This is people helping people in the most wonderful way, and we can never thank them enough."
Libby Arnold, executive director of Community Care Prayer Outreach in Nederland, also has seen the need.
"Although the public seems to think it has been a year and everyone that was displaced is back home, that is not true," Arnold said. "We get calls every day from individuals who had to leave everything in their residence when they evacuated. When they returned home, the belongings they left behind were gone. These low-income families have to purchase items such as brooms, mops, cleaners for floor, disinfectants, etc. These dollars will help with those expenses."
Local organizations receiving funding include:
Community Care Prayer Outreach in Nederland ($5,000 for cleaning supplies for low income citizens)
First Baptist Church of Kountze ($5,000 for shelter)
Youth Young Adult Fellowship Alliance in Silsbee ($5,000 for generator and shelter)
United Way of United Way of Beaumont and North Jefferson County ($5,000 for Harvey rebuilding)
Vincent de Paul Society ($5,000 for cleaning supplies for low income citizens)
Other organizations in Entergy Texas' western region ($70,000)
To distribute the funds, Entergy turned to the Foundation for Southeast Texas, a nonprofit, public charity that accepts funds from donors, manages them and distributes them to nonprofits in the local community.
"Foundation for Southeast Texas is very excited to partner with Entergy Texas on this grant round. This funding will make a huge impact on the rebuilding of our community that is still needed," said Mellie Bevilacqua, Executive Director of the Foundation for Southeast Texas. "We believe that with these partnerships, we will rebuild southeast Texas stronger than it was before the storm."
Today's donations are part of more than $800,000 Entergy has contributed in the past year. They are in addition to $530,000 in relief grants that Entergy already contributed to local agencies shortly after Harvey. 
Entergy Texas, Inc. provides electricity to approximately 450,000 customers in 27 counties. Entergy Corporation is an integrated energy company engaged primarily in electric power production and retail distribution operations. Entergy owns and operates power plants with approximately 30,000 megawatts of electric generating capacity, including nearly 9,000 megawatts of nuclear power. Entergy delivers electricity to 2.9 million utility customers in Arkansas, Louisiana, Mississippi and Texas. Entergy has annual revenues of approximately $11 billion and more than 13,000 employees.         
-30-
entergytexas.com
Twitter: @EntergyTX
Facebook: Facebook.com/EntergyTX
---