News Center > Mississippi High School Energy Academies to Power Up Career Readiness
For Immediate Release
Mississippi High School Energy Academies to Power Up Career Readiness
08/11/2020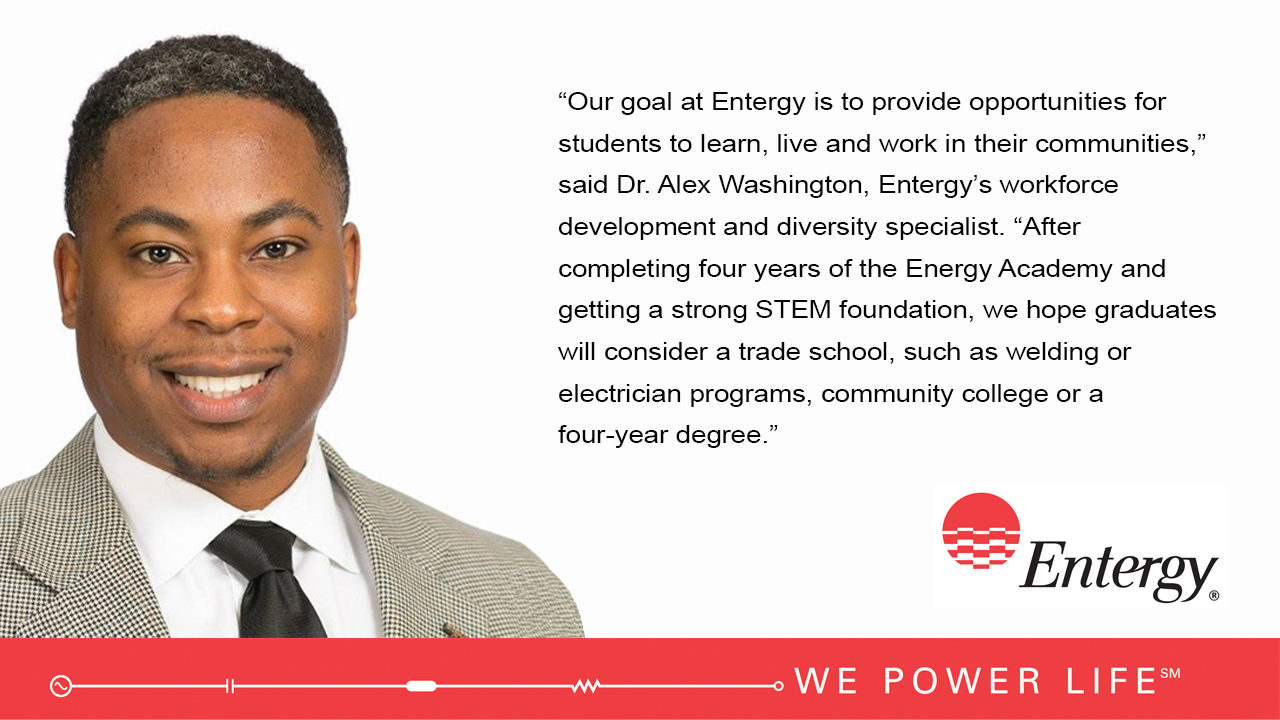 The Vicksburg-Warren and Claiborne County school districts are set to begin Energy Academy programs in the 2020-2021 school year designed to prepare high school students for fulfilling careers in the energy industry.
Entergy's Grand Gulf Nuclear Station is a supporter of the academies, which will offer a curriculum of interactive lectures, presentations, class assignments, field trip and research projects focusing on sustainable energy. By pairing classroom learning with hands-on experience, the academies are intended to help students gain internships in the industry.  
"The Claiborne County School District is proud to have the Energy Academy as the newest innovative addition to our Career and Technical Education Center. We are delighted to have Entergy as one of our primary partners sponsoring the Energy Academy.
"The partnership with Entergy will afford our students the opportunity to explore, discover, and gain hands-on experiences that will lead to a plethora of productive career opportunities. We are extremely honored to announce that we have 20 incoming ninth graders as our inaugural class. We are committed to ensuring that our students are prepared to meet the challenging demands of the 21st century workforce," said Dr. Nonya C. Thrasher, interim superintendent of education. 
The Energy Academy Act, signed into law in 2019 by then-Gov. Phil Bryant, established a partnership between the two school districts and the energy industry.
"Governor Bryant recognized the reliable, stable and rewarding jobs that Entergy and the state's energy industry provides, and he understood the continuing need we have for a skilled technical workforce as we build the premier utility," said Haley Fisackerly, Entergy Mississippi president and CEO. "With our Grand Gulf nuclear plant in Port Gibson and our growing utility business that serves roughly half the state, our need for highly-trained workers is always expanding. We are pleased to support these academies and their mission."
In 2019, educators, Entergy representatives and local Chamber of Commerce officials met to establish a budget, recruit students and design a curriculum. The program offers students the opportunity to study for and take a national energy industry certification exam. Completion of the exam prepares them for advanced programs that can lead to a career as an engineer, line worker or technician, or prepare them for other energy-focused academic or technical programs.
As part of the Energy Academy's effort to engage students, both school districts invited Entergy to present information on careers in energy to more than 500 students. Prior to COVID-19, Entergy also hosted a monthly Energy Academy board meeting at Grand Gulf, as well as a student tour of the Grand Gulf control room simulator during Careers in Energy Week. The current goals for the 2020-2021 academic year include continuing student and parent engagement and strengthening industry and classroom alignment. Curriculum programs are key factors toward successfully sharpening and broadening students' career ambitions.
"Our goal at Entergy is to provide opportunities for students to learn, live and work in their communities," said Dr. Alex Washington, Entergy's workforce development and diversity specialist. "After completing four years of the Energy Academy and getting a strong STEM foundation, we hope graduates will consider a trade school, such as welding or electrician programs, community college or a four-year degree. Throughout the Energy Academy, students will learn the pathways they can take to enter the energy industry. We're very excited to partner with two school districts within a few miles of Grand Gulf, the fifth-largest nuclear plant in the world. The site provides so many learning opportunities."
Career development is a critical component for students and affects the future of local communities, the state and the country. Grand Gulf Nuclear Station, Entergy Mississippi and the Energy Academy board will continue to ensure that students acquire the competencies and credentials needed to make the school-to-work connection as they advance towards their future careers, as well as support future workforce needs in Mississippi and across the company.
Entergy Corporation (NYSE: ETR) is an integrated energy company engaged primarily in electric power production and retail distribution operations. Entergy owns and operates power plants with approximately 30,000 megawatts of electric generating capacity, including 8,000 megawatts of nuclear power. Entergy delivers electricity to 2.9 million utility customers in Arkansas, Louisiana, Mississippi and Texas. Entergy has annual revenues of $11 billion and approximately 13,600 employees.
---