Insights > 'A Servant's Heart': Miller Named VITA Volunteer of the Year
'A Servant's Heart': Miller Named VITA Volunteer of the Year
05/08/2017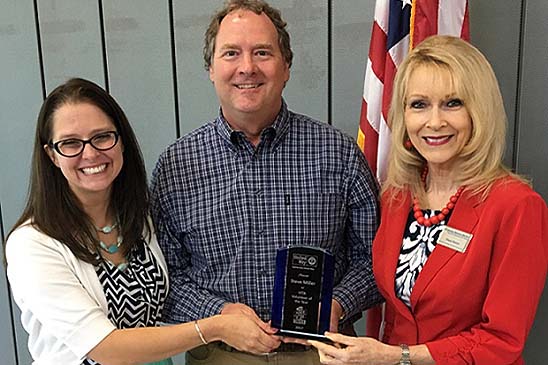 Entergy Louisiana employee Steve Miller got involved with the Volunteer Income Tax Assistance program in Baton Rouge two years ago and quickly became one of its most productive and well-liked volunteers. In April, he was named VITA Volunteer of the Year by Capital Area United Way.
"Steve is a community servant that we are proud to have on our team," said Heather Otten, VITA manager for Capital Area United Way. "A man with a servant's heart, Steve dedicates his time to helping low-income families through the arduous tax preparation process with knowledge, humility and, most notably, humor."
Miller, an industrial account executive, had volunteered for local food banks and homeless shelters and was searching for new opportunities to serve when he noticed an employee story about VITA volunteer training. Completing someone else's tax return seemed intimidating at first, but he decided to give it a try.
"The training session gave an overview of the software that volunteers use to prepare returns," he said. "If a tax return is too complicated, it's out of our scope. Volunteers with the basic level of training are able to help with 80 percent of the returns. I realized they definitely needed help, and it's a good benefit for people in the community who need tax assistance." 
From January through April, Miller volunteered at Jones Creek Library at least three days a week, putting in hours after work and on Saturdays. In addition to his proficiency at completing returns, Miller's award recognized his engaging personality and friendly demeanor.
"Many people don't file taxes because of their fear and anxiety about dealing with the IRS, so the first thing I do is make them feel at ease and build their trust and let them know it's in their favor to file," Miller said. "They're eager to get things squared away, so the last thing they need is someone who's going to make things difficult."
Over the last two years, Steve volunteered more than 200 hours at the Jones Creek Library VITA site. This year he directly served 62 families and helped his team serve an additional 199, according to Capital Area United Way.
"Steve and his team helped bring $302,441 in total refunds and $103,416 in Earned Income Tax Credits back into our community and into the hands of hardworking families who need it most," Otten said.
Miller noted that the majority of VITA clients are low-income families and retirees, including many single parents with multiple jobs. The VITA site must turn some people away because of staffing shortages — a situation he hopes to avoid in the future by encouraging more people to volunteer.

"Many clients we help are working two, three or four jobs and still don't make a lot of money," he said. "When you look at their income situation, you wonder how they get by, especially if they have kids. I hope the Earned Income Tax Credit program doesn't go away, because it really makes a difference in their lives. And even if they end up having to pay taxes, people are 100 percent grateful for the help they receive, no matter the outcome."

Each year, Entergy employees volunteer during Super Tax Day events or support IRS-sponsored VITA sites. Employees can then convert their volunteer hours into company-sponsored grants to charitable organizations in their communities, a program called Double Your Dollars.

"Since creating the VITA volunteer incentive three years ago, we've seen tremendous growth of our employees becoming IRS-certified as basic or advanced preparers," said Kristin Masoner, senior customer service specialist, Louisiana public affairs. "Not only is the Double Your Dollars incentive attractive to our employees, but we're seeing that the overall willingness to volunteer and give back in their local community is rewarding in itself."

Since 2011, Entergy's support of VITA sites in Arkansas, Louisiana, Mississippi and Texas has helped approximately 93,000 customers receive more than $162 million through the EITC program. Learn more online.
---