News Center > Entergy Texas Aids Continued Harvey Recovery in Texas Western Region
For Immediate Release
Entergy Texas Aids Continued Harvey Recovery in Texas Western Region
08/29/2018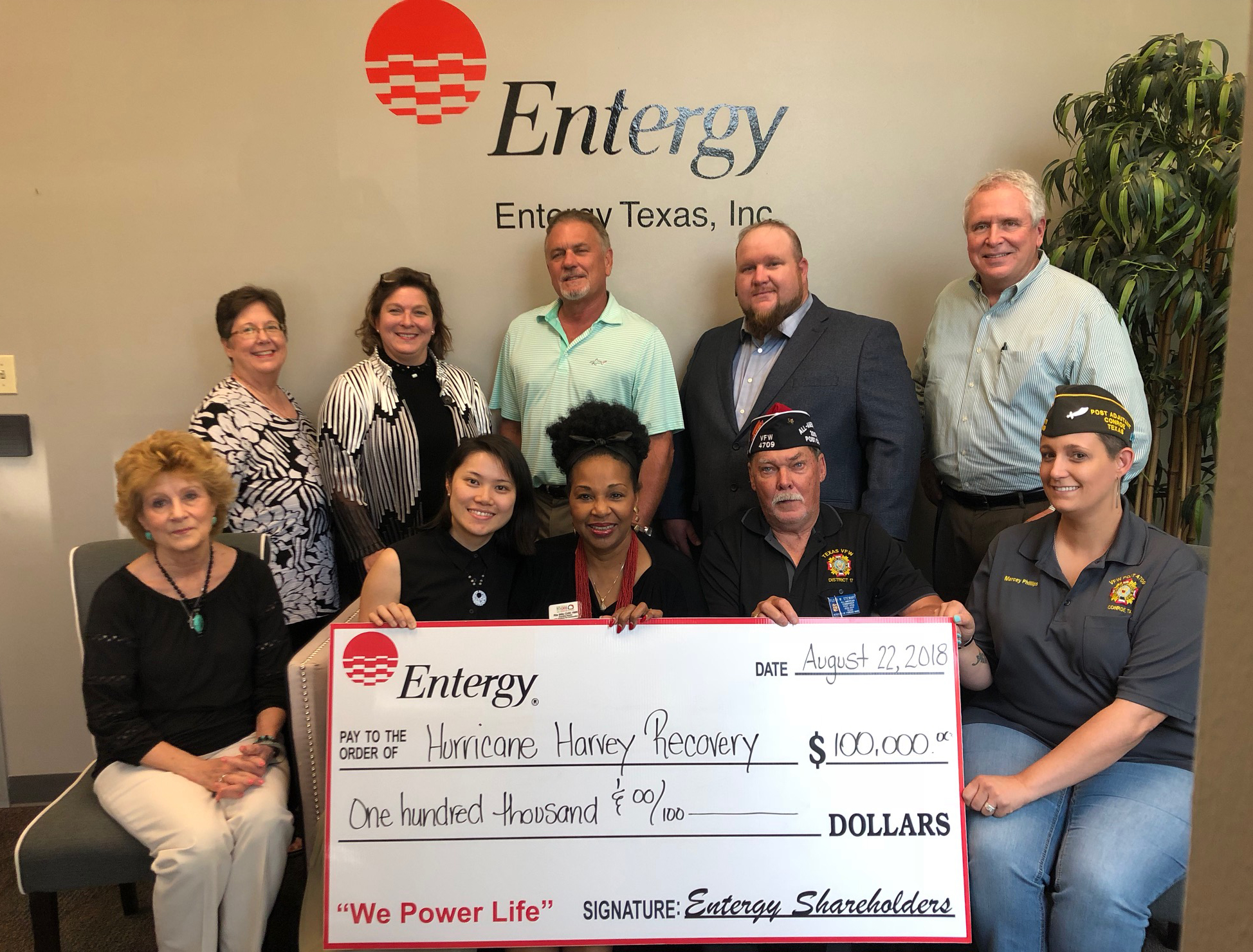 THE WOODLANDS, Texas – In the aftermath of Harvey's devastation, Montgomery County and surrounding areas showed the resilience to overcome. Neighbors, families and businesses stood together and rebuilt, stronger than ever. A year later, that rebuilding continues. 
This is why on the first anniversary of Hurricane Harvey hitting the Lone Star State, Entergy Texas is giving $300,000 to local educators, local governments and nonprofit organizations to replace items that Harvey destroyed.
"Harvey showed the heroes of our communities," said Sallie Rainer, president and CEO of Entergy Texas, Inc. "The schools, cities and community organizations were there to help people get back on their feet following the storm. Our contributions today are a sign of our ongoing partnership to make our communities stronger."
Entergy Texas directed $100,000 in Hurricane Harvey relief funds to Montgomery and Liberty Counties.
Organizations within these counties receiving funding include:
Habitat for Humanity-Montgomery County ($10,000 for rebuilding homes)
VFW Post 4709 in Conroe  ($15,000 to replenish veteran assistance funds depleted by the storm)
Woodloch ($10,000 for repairs to building and a lift station)
To distribute some of the funds designated for Montgomery and Liberty counties, Entergy partnered with area assistance agencies:
Mission Northeast ($25,300 to repair damaged infrastructure in East Montgomery County communities)
Children's Books on Wheels ($9,000 for repairs to homes and churches in the Tamina area)
"Children's Books on Wheels is very excited to partner with Entergy Texas on continuing efforts to rebuild after Hurricane Harvey. This funding will make a huge impact on the Tamina community that is still needed due to the storm," said the organization's executive director Rita Wiltz. "Through joint efforts such as this, we will rebuild our local communities stronger than they were before the hurricane."
Entergy Texas provided other contributions to schools and organizations in the company's eastern region, including Vidor, Beaumont and Silsbee. The donations are part of more than $800,000 Entergy has contributed in the past year. They are in addition to $530,000 in relief grants that Entergy already contributed to local agencies shortly after Harvey. 
Entergy Texas, Inc. provides electricity to approximately 450,000 customers in 27 counties. Entergy Corporation is an integrated energy company engaged primarily in electric power production and retail distribution operations. Entergy owns and operates power plants with approximately 30,000 megawatts of electric generating capacity, including nearly 9,000 megawatts of nuclear power. Entergy delivers electricity to 2.9 million utility customers in Arkansas, Louisiana, Mississippi and Texas. Entergy has annual revenues of approximately $11 billion and more than 13,000 employees.         
-30-
entergytexas.com
Twitter: @EntergyTX
Facebook: Facebook.com/EntergyTX
---