Insights > Entergy Employees Fuel $3.5M Economic Impact through Volunteerism in 2018
Entergy Employees Fuel $3.5M Economic Impact through Volunteerism in 2018
04/16/2019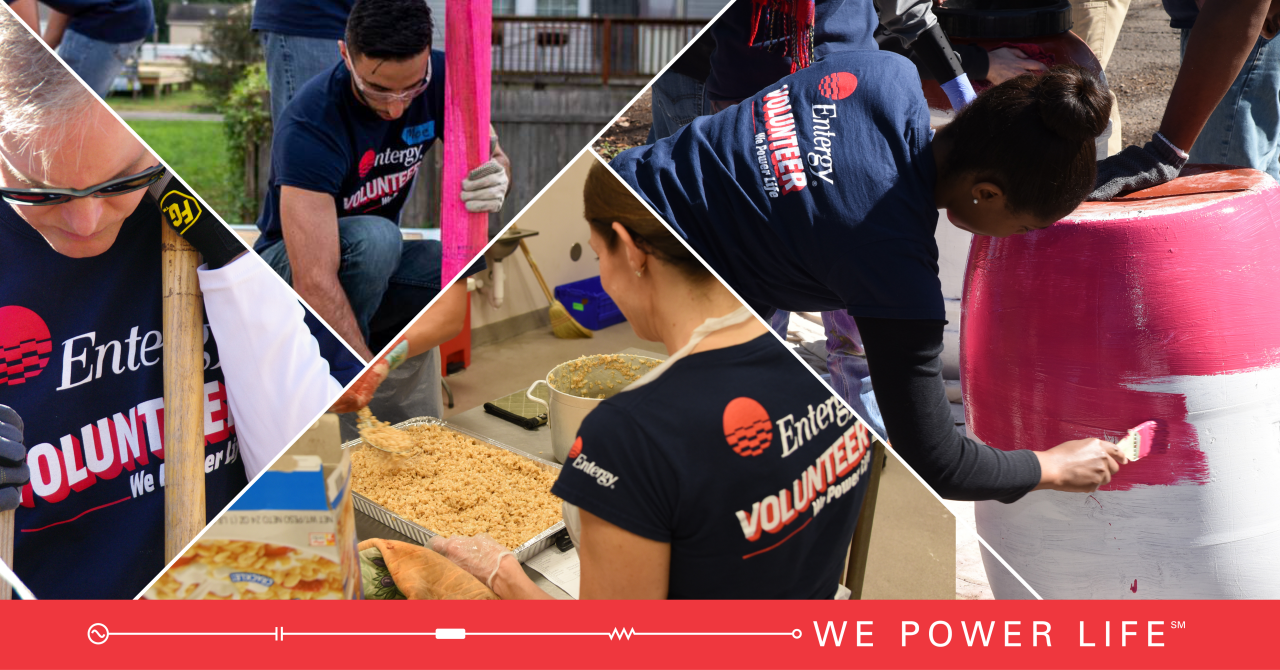 At Entergy, our work goes far beyond keeping the lights on and the power flowing, as we have for more than a century, to our 2.9 million customers living in Arkansas, Louisiana, Mississippi and Texas.
When we say, "We Power Life," we are also talking about the human power that comes from working together to improve lives and provide sustainable value to the communities we serve. 
From Beaumont to Baton Rouge, from Little Rock to New Orleans, from Jackson to West Monroe, our dedicated employees powered life in 2018 by investing nearly 112,000 hours volunteering alongside community partners, advocates, customers and neighbors, which generated more than $3.5 million in economic impact to our service territories.
Going beyond Entergy's shareholders' charitable contributions, our employees played a vital role in leveraging philanthropic giving into sustainable, tangible value for communities in which we work, live and choose to raise our families. The number of professional and personal hours dedicated to volunteering grew by 9 percent over 2017.
"Entergy strives to contribute to a bright, healthy and more environmentally responsible society not just for today, but future generations and beyond," said Patty Riddlebarger, Entergy's vice president of corporate social responsibility. "And we are grateful to all of our employees who dedicate their valuable time to helping us in this mission to better our communities and improve lives."
Whether preparing taxes for low-income customers, collecting recyclables and trash off streets and out of recreation areas, providing skill-based pro bono efforts, rebuilding homes after disaster strikes, planting trees, improving urban environments and restoring wetlands, tutoring high school students in standardized test preparation or feeding the homeless, volunteering is the most important way our employees share their time and talents.  
Studies link volunteering to not only enhanced physical and mental health, but also strengthened relationships between employers and employees. By aligning employee wellness offerings with targeted business objectives, Entergy supports and rewards employees who dedicate their time to volunteering through strategic corporate social responsibility benefits.  
To promote a culture of employee volunteerism, Entergy offers volunteer grants to all employees—based on the number of hours served—that they can designate to eligible nonprofit organizations of their choice. Employees who take advantage of this program collectively designate $300,000 in grants to their favorite nonprofits each year.
"Entergy has provided me with the tools and resources to get involved with the community," said Ashley Pitts, Entergy employee volunteer and transmission coordinator. "Whether it's participating in weatherization events, working at the local food bank or volunteering with the Boy Scouts, I feel I am helping people realize they are in charge of their own normal."
Entergy also offers 16 hours of volunteer paid time off each year to encourage employees to volunteer during scheduled work hours.
Check out a few ways Entergy employee volunteers powered life in 2018:

Companywide: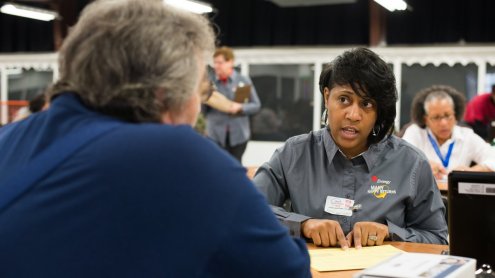 Entergy helped customers receive tax credits to improve their lives at Super Tax Day, a series of annual events during tax season. As of 2018, hundreds of Entergy employee volunteers have helped 127,000 customers receive $224 million in tax refunds through the Earned Income Tax Credit program since 2009.

Arkansas: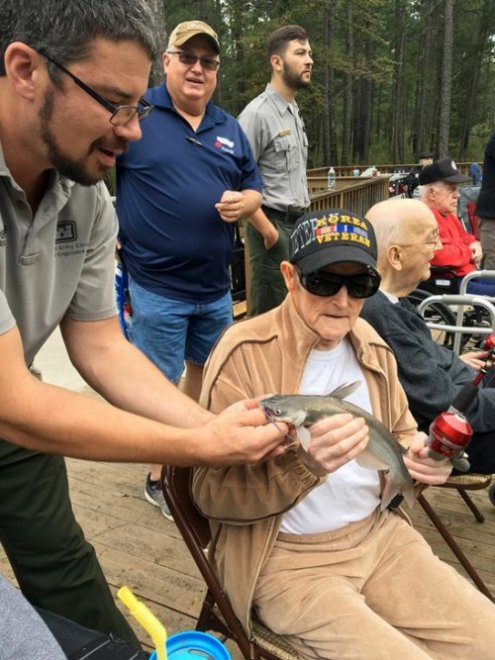 Powering a different type of line, volunteers helped some homebound U.S. military veterans enjoy a day of fishing at the Lakeview Recreational Area near Bismarck, Arkansas. The employees were part of a team of helpers including event host, the Veterans Affairs Hot Springs Home-Based Primary Care team.

Louisiana: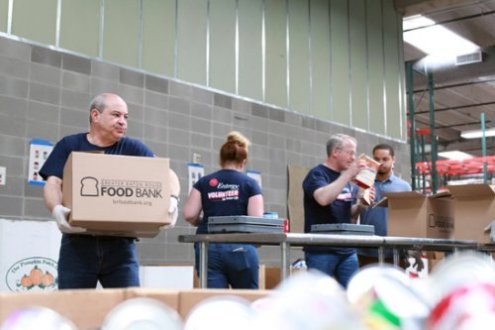 One-hundred and fifty-five employees in Louisiana logged approximately 750 hours as part of 2018 National Volunteer Week. In Baton Rouge alone, employees sorted and packaged approximately 30 tons of food over four days.

Mississippi: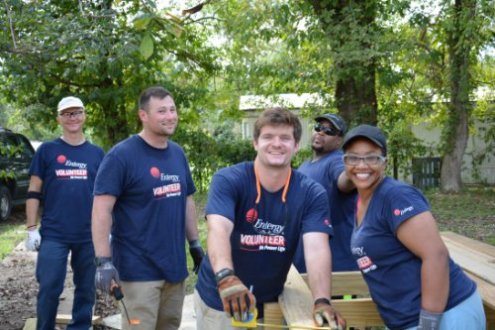 Entergy's Grand Gulf nuclear site partnered with local organizations to complete its inaugural Community Day volunteer event. The event consisted of more than 60 employees volunteering across seven service days to conduct winterization and maintenance of homes in Port Gibson, Mississippi. Throughout Community Day, employees utilized more than 600 hours of volunteer paid time off.

New Orleans: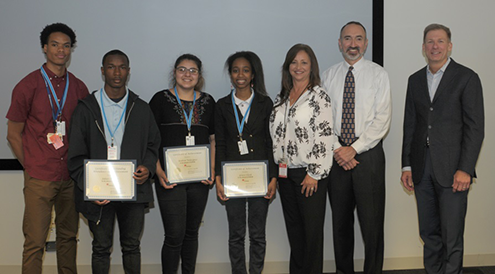 Entergy's ongoing, one-on-one tutoring program helps New Orleans-area high school students prepare for the math portion of the ACT college entrance exam. At the end of the school year, participating students are eligible to receive stipends and scholarships from Entergy—based on their final ACT test results.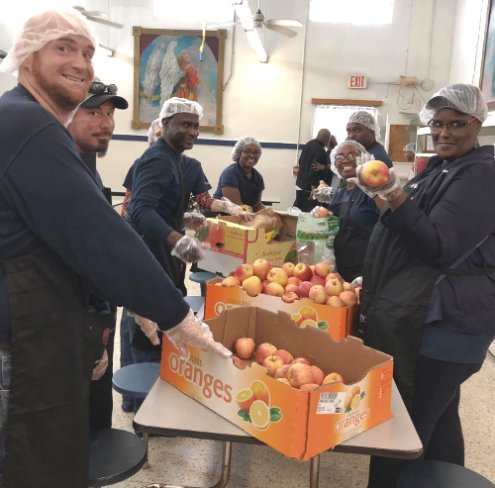 For three days in October 2018, employees showed the community how much they care by volunteering to "Feed the Homeless" at Ozanam Inn. Donning hairnets, aprons and gloves, 49 employees signed up to serve meals. In addition to working the lunch line, they also cleaned tables and washed dishes. 

Texas: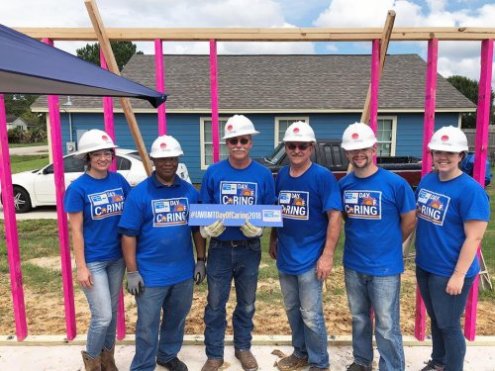 Partnering with 17 businesses and organizations across Southeast Texas, employees participated in the first ever "Day of Caring" hosted by United Way of Beaumont and North Jefferson County. More than 100 volunteers provided helping hands to seven homeowners in the Beaumont area who are still rebuilding and recovering after Hurricane Harvey.
 For more information on the company's philanthropic efforts, visit the corporate social responsibility website.
---